Support this campaign now with...
Campaign Details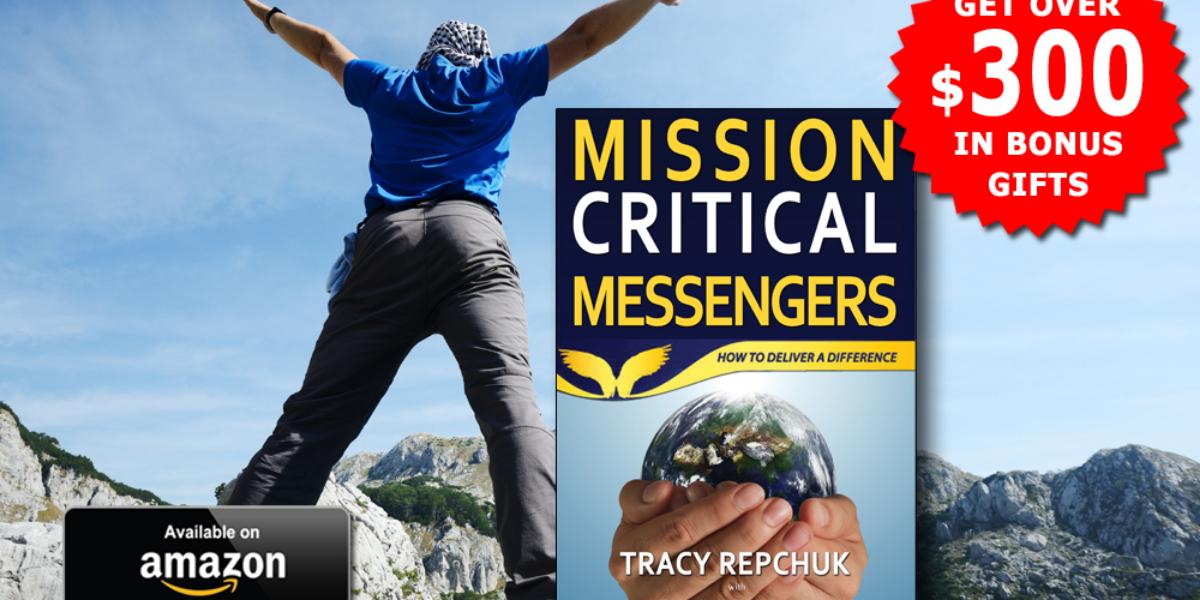 Hello Messengers and Friends!
Thanks for your support in the launch of Mission Critical Messengers - How to Deliver a Difference campaign.

Launch Date:
The launch is scheduled for Friday April 13th - the Luckiest day of the year!
The Book Intro:
Mission Critical Messengers - How to Deliver a Difference is about "When Making a Difference isn't a Desire - It's a Destiny!"
When you know the journey is the learning and the destination is possible, you'll discover there is no mission that can't be met and no vision that can't be mapped.
Get ready to be inspired, motivated to play a bigger game, and reach greater heights as you realize that one voice can change the world, and many can make a difference.

From life, business, personal, wealth, health, relationships, spiritual, goals, and aging - this book has it all!
Invest in every aspect of you, and deliver your own difference to the world.

Why That Date: Friday April 13th - History repeating itself

I chose this date because in 2007 when I launched my very first book I wanted to be a bestseller by my birthday which is April 14th, (which went to #1 Internationally on this day). I achieved this goal and then repeated it multiple times for clients.

Then I had the idea 5 years ago instead of just me being a bestselling author on my birthday, I wanted to give the gift to others as the gift I wanted for myself. This will be the 5th book of this series.
It has all come full circle.

How you can help:
You can email, blog, tweet, post or mention my campaign in your newsletter. Sample emails, twitter, facebook, linkedin, and images are available for this campaign.

The Who:
This book will educate, enlighten and energize you on an aspect of life you can excel at, master or simply enjoy the journey.

Foreword by Brian Smith, Founder of Ugg Boots

You'll be enlightened with chapters that cover these authors and topics;
> Tracy Repchuk - The New Era of Philanthropy and the Part You Play
> Chelsea Krost - Modern Marketing Tips to Master the Millennial Marketing Formula
> Martin Gerard Edmondson - The Write Stuff! The Life Hack to Writing a Screenplay in Under 30 Days
> Precious Wilson - How to Get Paid to Sing
> Keith Endow - Your Real Estate Wealth
> Tricia Trimble - Safe, Natural Sunscreen: Your Best Anti-Aging Investment
> Adaku Ezeudo - How to Live Your Dream Year
> Catherine Athans - What is Your Truth
> Vanessa Standard - 3 Steps to a Loving Relationship and Loving Life
> Yvette McDowell - Your Highest Calling: The Seed of Genius in You
> Sally Landau - Sizzling After 60
> Veronica Anusionwu - You Can Crush Infertility

Got Questions? Call 818.859.7210 or email dave@innersurf.ws
Thank you again for your help in making this campaign a huge success!

Tracy Repchuk
7 Time #1 International Bestselling Author
Campaign Updates
No updates posted yet
Campaign Contact
Dave Repchuk
Book Partner Liaison
Email:

Phone:
818.859.7210
About
> 7 Time International Bestselling Author including 31 Days to Millionaire Marketing Miracles from Wiley Publishing > World-renowned speaker in over 37 countries including Keynote in China at Global Leaders Economic Summit for presidents, heads of state and CEOs for technology > Award winning entrepreneur, writer and speaker since 1985 at the age of 19 when she started her software company including awards from Senate, Assembly, the White House and President Obama > Pioneer on the internet developing brands, websites, SEO and now social media since 1994 and currently serving on the Forbes Coaching Council, Amazon Influencer, and Linkedin Advisor > Featured expert in over 22 National and Local TV as a trusted resource for technology, internet and social media including ABC, NBC, CBS, FOX and appeared in 3 motivational movies? > Global leader serving thousands of clients around the world to develop a fully branded online presence so you can attract your ideal prospect, increase your income and reach millions with your message. 
---